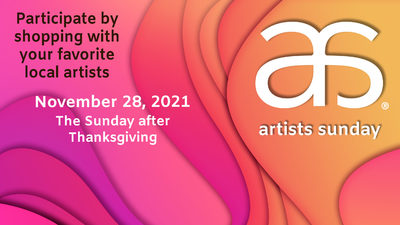 Sunday November 28, the Sunday after Thanksgiving, is Artists Sunday, the day to shop with local artists, creators, and makers. More than 550 communities and 4,200 individual artists, artisans and craftspeople are participating in the nationwide art-shopping movement, now in its second year. A gift of the arts makes a heartfelt connection with friends and loved ones, while supporting local artists and boosting the local economy. Consumers can shop from a full range of art, hand-crafted items, experiences, and performances, finding a wide range of creative items that are both practical and beautiful.

Here in Pittsboro, NC the Chatham Artists Guild Reception for their All-Member Show is scheduled for Artists Sunday, November 28, from 2–4pm at the Smelt Art Gallery in the Beverage District, 220 Lorax Lane, Pittsboro, NC. More than 50 artists will have work on display, including most of the artists on the upcoming Annual Studio Tour (Dec 4-5 and 11-12). My limited edition print, Sapphire Valley, will be on display (and available for sale!).

Personally, I'll be offering a 20% discount on all sales from my FAA website, ghDesigns.net from Sunday, Nov 28 thru Sunday, Dec 5. The discount applies to my markup of all work (not the production costs) on my site. So stop by, and check out my site for an Art Print--a great idea for unique holiday gift giving. I especially like prints on the Cold Press Watercolor papers or the Velvet Digital Art papers. They're both really substantial 100% cotton rag papers and the inks are very saturated and crisp on these papers. Pick up some greeting cards, or new ornaments, or my personal favorite—zip bags & totes, just in time for the holidays!

Use the Code: LPBRAN when you check out and get it delivered straight to your door!