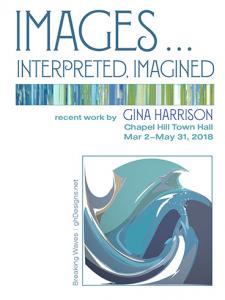 I'm excited to be a featured artist this year in the town of Chapel Hill's Juried Exhibition Series.

"Community Arts & Culture organizes the annual Juried Exhibitions Series each year for Chapel Hill Town Hall and The Chapel Hill Public Library to showcase artwork by established and emerging artists. A number of indoor exhibitions are organized throughout the year featuring a wide range of artistic media, including both two- and small three-dimensional artwork. Featured artists usually exhibit their work for two months in solo or two-person group shows. Artists are selected by a committee comprising members of the Chapel Hill Cultural Arts Commission and representatives from the Library and Town Hall."

My exhibit, IMAGES…INTERPRETED, IMAGINED begins this Friday March 2 and runs thru May 31 at the Chapel Hill Town Hall, 405 Martin Luther King Blvd.
The gallery space there is open Monday-Friday 8:30 to 5:00.

I'll be showing between 15 and 20 pieces, most abstracts.